Your Online Lead Generation Guide
Leads are the lifeblood of any business, although many marketers still struggle with the strategy of online lead generation.
As more and more prospective clients take to the internet to not only find products/services, but also research brands and competitors, it's vital for your business to utilise lead generation.
Say goodbye to cold calling and say hello to the future – generating business leads the inbound way!
We're here to help you navigate the ever-changing online terrain:
Read on, or easily jump to the section that interests you most:
○ Getting Started with Online Lead Generation
○ Why Does My Business Need Online Lead Generation?
○ Building your Lead Generation Strategy
Getting Started with Online Lead Generation
If a tree falls in the forest and nobody is around to hear it… Nobody cares, right?
The same can be said for your Online Lead Generation Campaign!
If nobody sees it, nobody is going to care…
Okay, that's not entirely true… the unimpressed CEO will see it and come looking for answers!
One of the first questions that need to be answered when getting started with online lead generation is:
What Is a Lead?
A LEAD refers to a person who has indicated interest in your company's offered product or service in some form.
This means that rather than having to deal with the time consuming process of cold calling, you're able to make contact with people who have already opened a communication with your business.
The information provided by the lead will also assist you in personalising your opening communication, ensuring that it meets their needs.
What is Inbound Marketing?
HubSpot defines inbound marketing as:
"an approach focused on attracting customers through content that is relevant and helpful — not interruptive. With inbound marketing, potential customers find you through channels like blogs, search engines, and social media"
One of the main benefits of inbound marketing is that it doesn't have to fight for potential customer attention.
The process of creating relevant content that addresses the needs and problems of your ideal customers enables your business to attract qualified prospects.
What is Online Lead Generation?
Online lead generation refers to the actual process of attracting and converting prospects (and strangers) into leads.
HubSpot goes on to defines lead generation as the process of finding unique ways to attract people to your business, providing them with enough goodies to get them naturally interested so that they'll eventually warm up to the brand and want to hear/buy from you.
The 3 main stages of an effective lead generation process are:
1. Awareness Stage
Content created to spark prospects' interest in your offering and build the foundation for a relationship.
2. Consideration Stage
This is the stage where you educate and build trust for your offering, answering that classic "why choose us" question.
3. Decision Stage
These sales-qualified leads are hot and ready for conversion!
Take Away: a way of warming potential customers, getting them into your sales funnel and on the path to eventually buying.
Why Not Just Buy Leads?
This is a classic question faced by many marketers.
The temptation to fill your sales funnel as quickly as possible pushes salespeople to explore this avenue.
The first thing to keep in mind here, is that purchased leads don't actually know you!
This means that they haven't opted in to receive anything from you – making any marketing messages sent from you "unwanted".
People hate receiving emails that they didn't ask for, not a great first impression for your brand.
Another factor to keep in mind with purchased leads is that there's a higher chance of them flagging your messages as spam.
If enough people flag your messages as spam, you'll be added to a blacklist, which is then shared with other email providers.
Staying off a "blacklist" is vital for successful marketing!
Why Does my Business Need Online Lead Generation?
Online lead generation enables your prospects to initiate the relationship with you, rather than you initiating the relationship with them.
This makes it much easier and more natural for them to want to buy from you at some point down the line.
As you can see, lead generation is a fundamental step in a prospect's journey towards becoming one of your happy customers!
Still not sure why your business needs lead generation?
Increase Sales & Revenue
Powerful lead capturing streamlines your marketing efforts, pushing quality leads directly to you, allowing for swift turnaround times.
Boost Conversion Rate
Lead generation is a vital part of your sales funnel, playing a crucial role in boosting your conversion rates.
Enhance Profits with a Strategic Digital Marketing Funnel
Identifying and enticing your target personas allows you to drive high-intent users straight to your business, pushing them from consideration to purchase.
Bolster Corporate Longevity with Quality Leads & Measurable ROI
The ability to target high quality leads, based on your ideal buyer personas, and measure your return on investment makes online lead generation a must!
Building your Lead Generation Strategy
Structuring a solid lead generation strategy will help you to build brand trust and capture the attention of your buyers before they are even ready to consult Sales.
It's important to remember that you don't want leads, you want new clients!
HubSpot Growth Marketing Manager, Alex Birkett (formerly Growth & Content at ConversionXL) elevates this point:
"Don't assume that more leads are automatically the better outcome. If you're passing names to a sales team and they're unqualified, you're wasting time which is wasting money."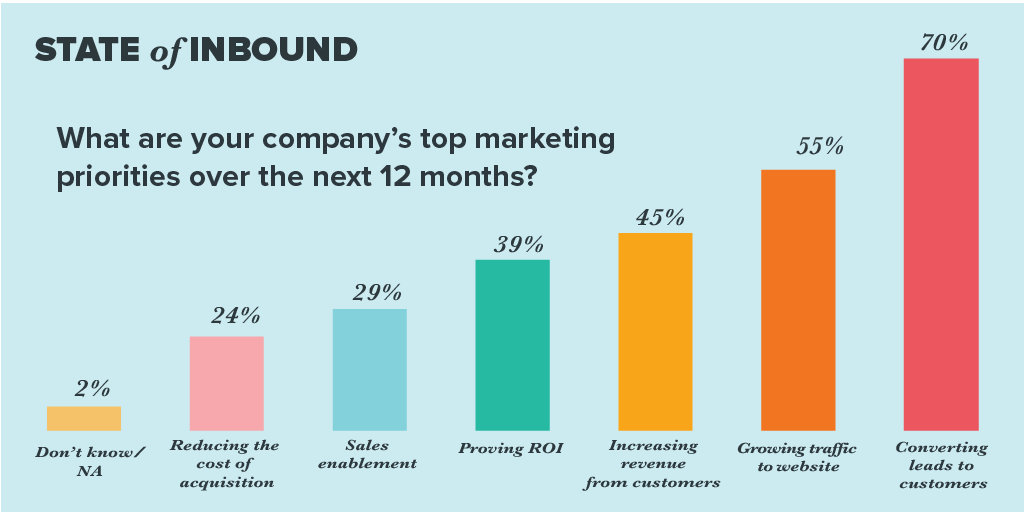 Ask yourself the following 10 questions when creating your lead generation strategy:
1. Have I analysed my current clients to define my best target client group?
2. Have I researched, refined and narrowed down my target client group?
3. Have I put myself in my prospective client's shoes?
4. Do I have a plan in place for outbound marketing and inbound marketing for lead generation?
5. What offers, techniques and incentives will I provide?
6. What are the best channels to communicate with my target audience?
7. Have I identified my Target Personas' background, goals, challenges and identifiers?
8. Have you answered the question "what can we do" to help our Buyer Personas achieve their goals/overcome their challenges?
9. Am I able to track my leads?
10. How am I using social media (and other platforms) to warm up leads?
Download HubSpot's Buyer Personas Templates – used by over 130,000 businesses!
Increasing Your Conversion Rate
"Paid channels work fast, but don't grow much over time. Organic and social channels take longer to kick in, but they're cheaper in the long run and they'll grow much faster. Organic approaches have limitless potential, as long as you are patient enough for them to develop."

Jayson DeMers, AudienceBloom CEO
Keep the following in mind when working to improve your lead conversion rate:
Effective Call To Action
What is a Call To Action (CTA)?
A call to action refers to the copy (or graphic) used to entice and persuade your reader to take your required action.
Consider the following when creating an effective call to action:
Use Strong Command Verb
The key to your CTA is to be clear and concise!
Let your reader know exactly what you want them to do by using a strong comment verb in your call to action, for example:
"buy" or "shop" for eCommerce lead generation
"tell me more…" or "find out how…" for information requesting
"download" or "subscribe" for newsletter or white paper promotion
Create Urgency
Creating urgency in your call to action is a great way to take advantage of FOMO (fear of missing out).
Readers will find it tough to ignore these CTAs, as they won't want to miss out on a limited opportunity.
Positioning
Call To Action positioning can play a huge role in your conversion rate, which is why it's vital to test and tweak.
A website eye tracking study found that people typically start by looking in the upper left corner, moving in an almost F-shaped pattern:
Message Match
Your landing page should reinforce the messaging presented on the link that was clicked to reach the specific page.
With so many competitors out there, visitors will not hesitate to leave if their intent isn't reinforced quickly and clearly:

What's In It For Them?
To elevate your message match even further, your call to action should tie in with your value proposition or unique selling point (USP).
Contrasting Colours
While this may seem obvious to some, contrasting colours can draw the user's eyes to your desired call to action, making it stand out.
Elevated Contact Form
The key to conversion optimisation is to test and tweak!
Test layout, position, number of fields and the effect that making fields compulsory can play.
Mark Schaefer, author of The Content Code, sums it up this way:
"In a nutshell, the length of your form inevitably leads to a trade-off between the quantity and quality of the leads you generate."
Support your Lead Generation Campaign with Relevant Content
When launching a new marketing campaign, supporting it with relevant content is a must.
This includes things like blogs and social posts.
Not only will this let your existing subscribers know about the new products, it'll also introduce brand new audiences to your launch.
Creating relevant blog posts that support your launch will help educated your existing clients and also organically bring in brand new clients searching for related topics.
Last Updated: 02 February 2022